An above ground pool is a great way to have an affordable backyard oasis for a fraction of the cost of an inground pool. Blue Water Pools has been carrying round Seaspray brand above ground pools for over 25 years and we plan on continuing to carry them for many years to come because they are sturdy, attractive, and easy to get parts for . They are made of quality 18 gauge corrugated steel walls, and the round shape and wide uprights and top rails makes them the strongest pools on the market. All of our Seaspray above ground pool packages come with name brand, quality equipment, and we carry the parts for them as well. If you buy a pool from Blue Water Pools, you can bet you'll be able to get any part you need to repair it in the future, as well as, warranty assistance.
The Evolution 52" deep with 9" Top Rail
60 Year Limited Warranty; 3 Year Full; 20 year limited liner warranty
Prices starting at $6,798
Each Kit includes:
Pool hardware, skimmer, and plumbing
HEAVY DUTY 20mil beaded vinyl liner with limited lifetime warranty
Name Brand Crystal Flo II, 22″ sand filter with sand
Dynamo or Optiflo 1hp pump on resin base
INCLUDES UPGRADED PLUMBING
PREMIUM  A-Frame ladder or Premium Smart Step Ladder w/ Stairs (while supplies last)
Winter Cover with Aquador setup for no-draining winterization
Coving around interior walls
Maintenance kit with test kit, pole, net & vacuum head, start up chemicals
Blue Water Pools manual on care and operation & personalized pool school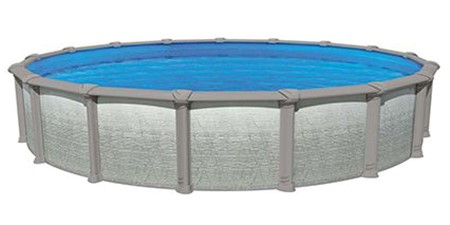 All prices are cash and carry and DO NOT include installation. ALL PRODUCTS ARE WARRANTEED BY MANUFACTURER. WARRANTIES EITHER EXPRESS OR IMPLIED ARE SUBJECT TO MANUFACTURERS APPROVAL. SOME EXCLUSIONS MAY APPLY. Prices are valid for 2023 and subject to change.