Pool and Hot Tub Supplies, Chemicals & Parts
We offer free computerized water testing and a complete line of pool and spa chemicals and supplies. Our staff is well trained in water chemistry with practical experience. We offer both chlorine and chlorine free EZ Pool™ & EZ Spa™ chemicals, and are happy to explain the pros and cons of both – so that you can choose which system works best for you! We are also proud to be an Aquarite® and Aquatrol® chlorine generator dealer. We have several years experience with these salt systems that have been so popular in other parts of the country.
We are a Starite®,  Pentair®, and Hayward® authorized parts and equipment dealer and we carry parts for all the major equipment we sell.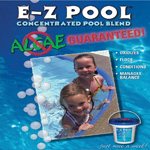 E-Z POOL™
is our once a week chlorine free system for your pool. With it's NO ALGAE guaranty, it's a great way to maintain your pool. It contains powerful oxidizers, algaecide, clarifiers, softeners, scale inhibitors, and does not raise or lower your pH, Alkalinity or Calcium levels.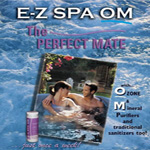 E-Z SPA OM™
softens and clarifies your spa water, relieves balance anxiety, eliminates odors and foaming, and inhibits scaling. This once a week product is a great way to maintain your spa.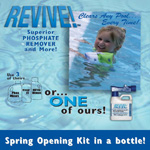 REVIVE!™
is a great way to remove phosphates (up to 2000 ppb), copper & iron (up to 2.0 ppm). It clears water of organic debris such as dead algae, captures scaling carbonates and is compatible with all sanitizers even biguanide.

The Hayward® Navigator® sets the standard in high-performance cleaning for in-ground pools of all types and sizes. Simple to install, Navigator® features the exclusive SmartDrive® programmed steering which assures that the average pool will be cleaned in less than 3 – 4 hours. Quiet and attractive, Navigator® is the intelligent choice in automatic cleaners for smart pool professionals everywhere.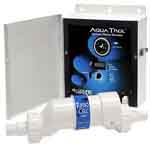 Aqua Rite®
Aqua Rite® Electronic Chlorine Generators (also known as salt chlorinators) are the largest selling system in the world. They automatically produce pure chlorine every day while the pool is being filtered and distribute it evenly throughout the pool via the return jets. Aqua Rite® generators use a low concentration of salt dissolved in the pool water (below the level of taste) to produce up to 1.45 lbs of chlorine daily, enough for all residential pools up to 40,000 gallons. They easily install on standard filtration systems, both for new construction and on existing pools.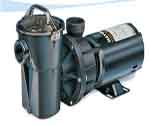 Pumps
We carry a large selection of pumps and pump parts, as well as filters, motors, pump systems, valves and all the parts for each.